The city of Portland is amid its biggest development boom since the 1980s, and one area that's seeing significant change is downtown. In this three-part blog series, we divide the area (south, central, and north) and explore the many exciting real estate projects taking place.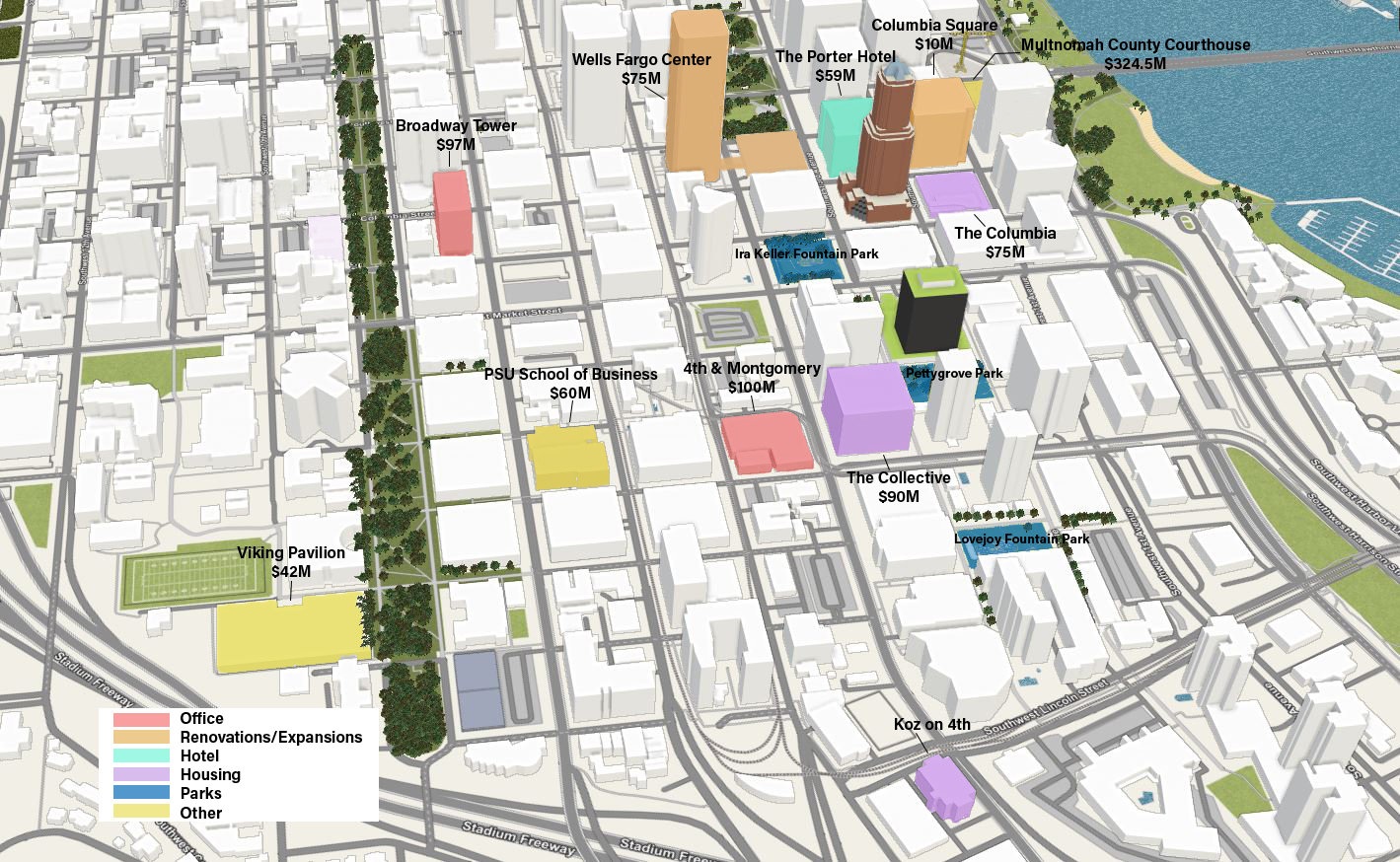 Downtown South
The southern part of downtown Portland lies below the Hawthorne Bridge and is bordered to the south and west by I-405. This area is home to a variety of technology companies, professional services firms, restaurants, coffee shops, and retail shops as well as the Portland State University campus. While the area has always been a busy place, it's seeing significant commercial real estate development and major renovations (which we estimate to total nearly $1 billion) that will introduce even more activity and excitement.
Neighborhood Development
(The downtown south area includes properties east to west from the waterfront to I-405 and north to south from SW Jefferson St. to I-405).
As of September 2019, there are eight projects that are under construction and another four that were completed in 2017 or 2018. These projects include:
Columbia Square Renovation (under construction, completion: 2019)
111 SW Columbia St.
$10 million renovation
A 15-story office building receiving a major renovation of the lobby, new retail available on the corner of SW 2nd & Columbia, and an updated restaurant space.
"The Columbia" Mixed-Use Property (under construction, completion: 2021)
140 SW Columbia St.
$75 million development
A 20-story building featuring 340+ apartments and 15,000 square feet of ground-floor retail space.
Multnomah County Courthouse (under construction, completion: 2020)
1220 SW 1st
$324.5 million development
A 17-story building with 44 courtrooms.
The Porter Hotel (completed 2018)
1355 SW 2nd
$59 million development
A 16-story hotel (part of Hilton's Curio Collection) featuring 297 guest rooms, a library, and a rooftop bar & lounge.
Wells Fargo Center Renovation (under construction, completion: 2020)
$75 million capital improvements
Entrance on SW 5th:

Updates include a remodeled entrance with a glass and steel canopy, updated clear glazing, new seating, and new landscaping.

Exchange Building (the old data processing building on SW 4th):

Updates include the removal of the drive-through and terrace, addition of a glass enclosure to house a new lobby and office space, addition of a new mezzanine level, and a new landscaped roof deck.
"The Collective" Mixed-Use Property (under construction, completion: 2019)
333 SW Harrison St.
$90 million development
A 15-story building featuring 417 apartments, ground floor retail, and below-grade parking.
Fourth & Montgomery Office (under construction, completion: 2020)
401 SW Harrison St.
$100 million development
A 7-story building built on ¾ block with 174,000 SF of office space to be used as classrooms for PSU, OHSU, PCC, and Portland's city government. It will also have ground-floor retail space.
"Koz on 4th" Mixed-Use Property (under construction, completion 2019)
2211 SW 4th
A 6-story building with 108 residential units and ground floor retail space.
Viking Pavilion at PSU (completed 2018)
930 SW Hall St.
$42 million capital improvements
A 141,700 SF arena for the Portland State University Viking Athletics program that seats just over 3,000 people.
Broadway Tower (completed 2018)
1455 SW Broadway
$97 million development
A 19-story building featuring a 6-floor hotel (Radisson RED), 175,000 SF of office space, a restaurant, a retail space, and below-grade parking.
Portland Open Space Sequence Restoration Project (under construction)
A $4 million restoration project targeting several green spaces downtown; updates include area walls, lighting, fountain basins, landscaping, and pavement.
Ira Keller Fountain Park: SW 3rd & SW Clay St.
Pettygrove Park: SW Pedestrian Trail between 1st and 4th Ave.
Lovejoy Fountain Park: SW 3rd & SW Harrison St.
Source Fountain: 101-205 SW Lincoln St.
PSU School of Business Renovation & Expansion (completed 2017)
631 SW Harrison St.
$60 million capital improvement
The building received a structure upgrade as well as a North-end expansion that features a new entrance and ground-floor retail spaces.
Columbia Square
One of the updates we're especially looking forward to at Melvin Mark Companies is the renovation of the lobby space at Columbia Square, our headquarters building (111 SW Columbia St.). The project, which is due to be completed in the fourth quarter of 2019, includes a refresh of the ground floor. The building lobby will be completely updated with work that will match the exterior travertine on the walls and floors. In addition, there will also be wood and brass accent walls, a new ceiling, updated lighting fixtures, plenty of seated meeting spaces, and a museum-quality display that features unique historical items from the late Pete Mark's personal collection.
Columbia Square will also see upgraded elevators and a ground floor restaurant space that features a spacious glass atrium and a private outdoor seating area. The 6,000 SF restaurant space is available for lease (ideally by a local, high-quality operator). The corner retail space (where US Bank is today) will be available in early 2020 as well, with spaces ranging from 1,200 up to 4,000 SF. Office space is also available on a variety of floors starting at 2,000 SF and up to 35,000 SF on the top two floors of the building. This area features a dramatic skylight and open stairway connection between the floors.
The overall Columbia Square renovation aims to recapture the original character and quality of the building with a modern upgrade. Not only is it located steps from the waterfront, but it's also positioned amid a variety of development projects, including the recently completed Porter Hotel, the future 20-story apartment complex at 140 SW Columbia St., and the future Multnomah County Courthouse at the corner of Jefferson St. and 1st Ave.
"It's exciting to see the transformation going on downtown," says Tom Becic, a long-time broker at Melvin Mark. "I've been in Portland for many years and I've seen the area change, but this amount of development and redevelopment is pretty amazing. In the next few years, we'll have new hotels, offices, restaurants, apartments, shops, and beautiful renovations that will energize the area even further. I'm really looking forward to it."
Other Melvin Mark Properties
At Melvin Mark, we're happy to own or manage several buildings in the downtown south area. In addition to Columbia Square, we also own or manage:
Auditorium Garage (1400 SW 4th)
Crown Plaza (1500 SW 1st)

Available space: 16,103 SF across 1st, 2nd, 7th, 9th, and 10th floors

The Fifth Avenue Building (1400 SW 5th)
If you're interested in the available restaurant space at the Columbia Square building, please contact Nicole Onder (licensed in OR) at nonder@melvinmark.com or 503.546.4540. If you're interested in the available office space at Columbia Square, please contact Tom Becic (licensed in OR) at tbecic@melvinmark.com or 503.546.4513, or Paul Andrews (licensed in OR) at pmandrews@melvinmark.com or 503.546.4542.