As we continue to adapt to a new work-life balance during the global pandemic, many of our clients, friends, and colleagues have reached out to hear our thoughts on the office environment of the future. Will the work-from-home dynamic continue after the risks of COVID-19 are behind us? Will we see a shift in the interest of office space? Will our work schedules become more flexible? It's hard to know the future of the workplace and our team has turned to the experts, delving into studies, articles, and opinions over the past six months. Here, we want to share our perspective and thoughts as we look to this next chapter.
Productivity
The workplace environment has a direct effect on productivity, and while some individuals may work better remotely, many thrive with the ability to work amongst others. Recently, Vocon conducted a survey of 50 businesses in industries including architecture, engineering, design, advertising, finance, and more. According to the survey, remote productivity dropped by 40 percent since the start of the pandemic. In addition, 25 percent of employees reported work-from-home fatigue, which could stem from things like homeschooling children, videoconferencing overload, or even just a feeling of isolation.
JPMorgan Chase & Co. recently released a study that showed productivity has slipped for their employees as well. They noted "remote work is no substitute for organic interaction" as part of why they are urging workers to return to offices. As of September 21st, the company required senior sales and trading employees to return to their office workspaces. Many businesses have reopened their offices and a small portion of employees have returned to their workspace, but most aren't planning to do so until at least the first quarter of 2021.
Office Footprints
Office space has always been an important factor for businesses, but COVID-19 has forced many to reassess their needs. Four larger companies – Amazon, Google, Facebook, and Microsoft – have all made moves in favor of increasing their office footprints.
Amazon plans to expand its offices in six major cities including Bellevue, WA, where it recently leased 2 million square feet of space and plans to add 10,000 more jobs to the area in the next several years. Likewise, Facebook recently leased 730,000 SF of space in Midtown Manhattan to add to its existing 2.2 million SF of space and Microsoft recently invested in more than half a million square feet of new office space in Atlanta's West Midtown submarket. Finally, Google revealed detailed plans for a major investment in San Jose, California that includes up to 7.3 million square feet of gross commercial office, up to 5,900 residential units, 10 parks, and 500,000 square feet of retail, restaurants, community service, and entertainment space. The company had delayed the decision at the start of the COVD-19 outbreak but resubmitted their application in early October.
The choice to expand their square footage is interesting, as all four companies have given their employees the option to work from home through at least January 2021. Perhaps these moves could indicate a return to the pre-pandemic style of working in the future or a shift towards increased social distancing. Every company has a different culture and office layout to match the company. As everyone reassesses the way they do business, we expect office configurations to evolve accordingly.
Office Configuration
The past decade saw a significant shift towards dense office configurations. Shared workstations that can be used by any member of a team, large work benches, and small open cubes decreased the average square foot per employee. Nationally, according to Cushman & Wakefield, the average square foot per employee dropped to 194 in 2019, which was down over 8% in 10 years. In some larger markets the average was less than 135 square feet per employee. This was coupled with a significant increase in shared common areas including: kitchens with shared containers of food, gyms or fitness areas, showers, and lockers. With an impetus for personal workspaces, larger workstations, safe, socially distanced meeting and shared spaces, and even access to outdoor space, we expect this trend to reverse itself.
Design and planning firm Gensler has been leading the effort to inform their work with some of the best research on the workplace in response to COVID-19. Their studies show that the overwhelming majority of people want to return to the office, only 12% of U.S. workers want to work from home full-time, and people do not expect to return to the same workplace. In a survey by Gensler, employees viewed stricter policies against coming in sick, an increase in opportunities to work from home, and office cleaning as important to making them feel comfortable returning to the office: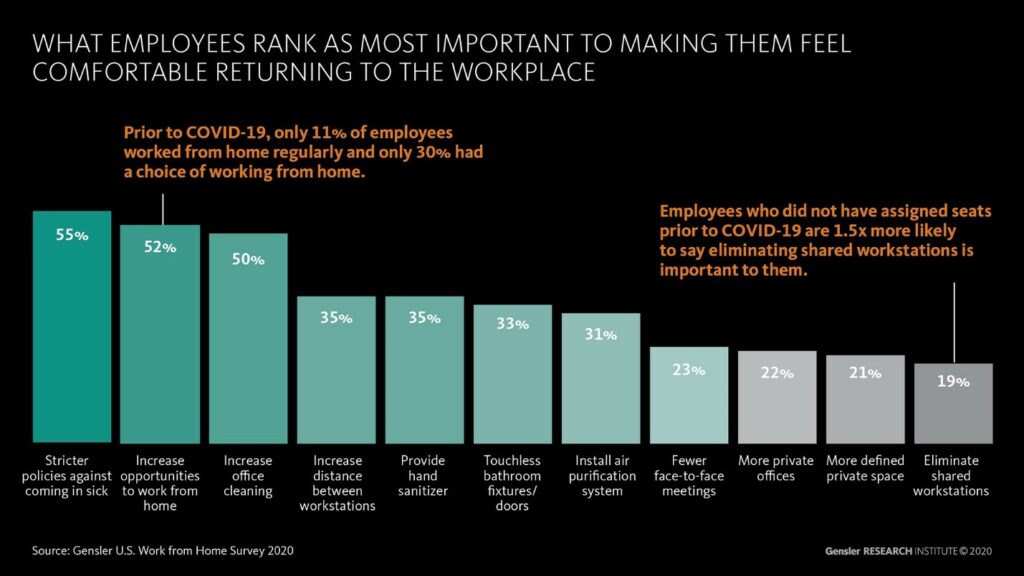 No company will address these issues in the same manner, but we expect to see evolutions such as an increase in technology spending associated with tools to provide employees with the ability to work remotely and video conferencing to allow employees to interface from many different places at the same time. We expect to see users reconsider their space, and in some specific cases companies will completely reconsider the way they utilize their offices and interface with their employees in a post-pandemic world.
Conclusion
There is a lot of conjecture in what will come next and we do not pretend to know what will happen between now and when "normal" business resumes. However, based on research and experience, we feel strongly that most employees and employers desire a productive, safe place to work and communicate and cross-pollinate with their co-workers and clients in person. Our team is here to assist in evaluating the opportunities and options. Please feel free to reach out to Peter Andrews with any questions via pandrews@melvinmark.com or 503.546.4522.