With the success of the COVID-19 vaccines, restrictions waning, and the return of downtown activity, we are beyond grateful to be able to collaborate face-to-face once again. As of June 1st, we welcomed more of our employees back to our headquarters at Columbia Square while maintaining our safe practices in the workplace. While Melvin Mark may be biased about our love for working together in our offices, we believe that we are in the business of creating and maintaining spaces that facilitate connection, grow ideas, and foster community.
Before the events of 2020, more than 100,000 office workers could be spotted in Downtown Portland and while it will take time to return to that amount of activity, the area is beginning to buzz. We were encouraged to hear that Bank of America recently welcomed staff back to its office and NW Natural and PGE have plans to bring more employees back after the 4th of July. Many firms are opening their offices up this summer with plans to repopulate them after Labor Day. This gives people the chance to ease back into the office again and the opportunity to reconnect in person.
The Importance of Office Space
After implementing a work-from-home approach, many companies began questioning the importance of office space; a handful sought to downsize the square footage that they occupied and some even decided to forgo the office completely. But as we begin to see individuals return to work, companies are now rethinking their future office plans. An article by Quartz noted that in September 2020, 39% of large U.S. companies anticipated having a smaller office footprint. As of June 2021, however, that percentage dropped to 9% and Baird Equity Research says the demand for office space has actually risen 118% since January.
An office environment can impact many different workplace elements including culture, efficiency, functionality, and overall wellbeing. While many companies have proved they can be successful with a remote work model, physical office space gives their employees a place to focus, utilize resources, and work together.
In Oregon, many industries are beginning to recover from the events of the past year (some even within 3% of their pre-recession employment peak) and it's clear that office space is still valuable. Many local companies have sought new office locations or have renewed their current leases in anticipation of a city-wide revitalization. Local law firm Lane Powell and accounting firm Moss Adams both renewed their downtown leases at Moda Tower and Fox Tower, respectively. And in April, tech company Esri leased a 15,610 RSF office at 900 SW 5th Ave.
According to a CoStar article by Randyl Drummer, fewer than one in 10 companies is now considering deep cuts to office space. "As someone who employs thousands of people, I haven't figured out how to motivate by modem," Sam Zell told CBRE Senior Economic Advisor Economist Spencer Levy. "Zoom doesn't create the kind of connection that sitting across the table has."
Collaboration and Productivity
Collaboration has always been an important part of the workplace, but it proved to be even more important after months of remote work. Before COVID-19 set in, U.S. workers spent about 44% of their workweek collaborating either virtually or physically, according Gensler. After many were forced to work from home, that number fell to 27% in 2020 and employers saw a significant drop in productivity.
While some were able to adapt to a work-from-home mentality, many missed the personal interactions that occurred in the office. In fact, Gensler's fall 2020 workplace survey noted that 66% of individuals in senior leadership or executive positions were reliant on in-person collaboration.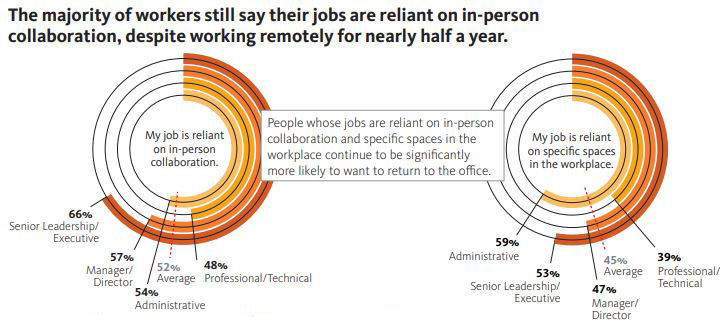 For some, being able to work in person has become an important part of both their current work situation and their future. In an article by Bloomberg, more than half of 6,000 surveyed workers aged 21-30 stressed the importance of in-person collaboration and said they felt anxious about a lack of training and future career opportunities without it. Overall, most workers have expressed a desire for at least some in-person communication.
"We're all really excited to be back Downtown," says Peter Andrews, Executive VP of Brokerage at Melvin Mark. "It has been fun to be back in the office with more of our employees and see Columbia Square buzzing again. We have noticed that everyone is busier, and many have said they feel more productive being in the office and working together."
Melvin Mark Brokerage Company is in the process of assisting many local clients with lease renewals and new unique office spaces. If you'd like to evaluate your company's office opportunities, let us help. Please feel free to reach out to Peter Andrews via pandrews@melvinmark.com or 503.546.4522.