As the COVID-19 pandemic continues to challenge and change our lives, its effects have shown us that individuals are flexible and can adapt when needed. Many employees have been working from home for more than six months and have grown accustomed to new methods of communication, motivation, and collaboration. But does that mean they would prefer this same model once restrictions are lifted? Are there benefits to returning to an office environment? And how have worker priorities changed?
In a follow-up to a study completed at the beginning of the pandemic, Gensler updated their survey information in the summer/fall 2020 and collected responses from more than 2,300 U.S. workers about the future of the workplace. All of these individuals worked in an office environment prior to COVID-19 and many of them currently work from home.
The survey found that even after six months, many still believe a physical workplace and in-person communication are important to their productivity. Expensify CEO David Barrett believes the same. "It will just be different," he says. "There will be more of a social focus as a place to meet and collaborate with co-workers and other partners. More individual work will happen where workers are more productive — which for many, even before COVID, meant outside the office."
Despite their current environment, 52 percent of workers said they would prefer a hybrid work model that allows them to work partially from home and partially in an office.

Those with a specific preference were likely to work in a certain industry. For example, many who desire a full-time office model are in industries such as Consumer Goods, Sciences, and Government while many who desire a full-time remote model are in industries like Technology, Finance, and Media.
Each work model has its own benefits: workers rate their homes as a more effective place to focus, learn, and collaborate virtually while the office is better for problem-solving, communication, and in-person collaboration. It's the positive aspects of each that make more than half of individuals want to combine them to create an ideal model.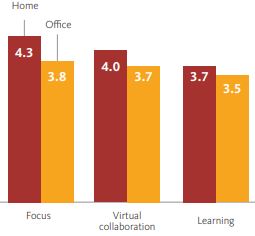 Work Model Priorities
While many individuals see the ability to work from home as highly valuable, others like having a formal place to go to do their job. Those in the survey who prefer either a full-time work-from-home model (19%) or a full-time in-office model (29%) do so with distinct priorities.
The top reasons for a full-time work-from-home preference:
Concerns about catching and/or spreading COVID-19
Working where they are most comfortable
Saving time
Working where they are most productive
The commute
The top reasons for a full-time in-office preference:
Working where they are most productive
Working where they have the best computer/technology set-up
Having a better workspace set-up
Access to specific spaces in the workplace
Working where they are most visible/accessible to others
Overall, individuals like having an office to work in and 83% of them expect to return to the workplace when restrictions are lifted; those who prefer working from home are most likely to do so because of concerns about COVID-19.
Work/Life Balance
A hybrid work model offers more flexibility and a better work/life balance – two things that many workers find valuable. Those who have been in a hybrid work model during the pandemic have also seen a "greater boost to their personal creativity, work relationships, and productivity" and are "more likely to feel connected and engaged." In addition, team management and problem-solving are also among aspects that benefit most from a hybrid work model.

Forbes Business Council member Jason McCann agrees with the idea of a hybrid workplace. "This model lets businesses support employee safety and well-being while also getting the benefits that come along with having a central, physical workspace," he says in his article. "For many companies, this middle-ground approach may be here to stay."
What Offices May Look Like
While the preference of working part-time in an office has been established, the type of office environment is also an important factor when determining the future of the workplace. Prior to the pandemic, open work environments that featured fewer walls, shared desks, and collaboration spaces were rising in popularity. For 69% of individuals, this described or currently describes their environment, and while many of them prefer an open concept, 47% of all workers would prefer a more private environment. In fact, an overall 61% of people said they would prioritize having an assigned seat over a greater flexibility to work remotely.
No matter what their workplace looked like pre-COVID-19, many businesses are reevaluating what it may look like in the future and a hybrid model looks different for everyone. Some businesses may choose to stagger workday start and end times, some may rotate who is in the office each week, and some may designate certain days for in-office collaboration.
Conclusion
While we do not predict the right type of office for everyone, our team is here to assist in evaluating the opportunities and options. Please feel free to reach out to Peter Andrews with any questions via pandrews@melvinmark.com or 503.546.4522.